Many petroleum industry flow metering applications feature the use of magnetic-pickup-type turbine meters.  (See Figure 1 below.)  Internally, these meters feature a steel turbine that rotates past a magnetic pickup, similar in principle to a string pickup in an electric guitar.  The signal output from this type of meter is a low-level sine wave, whose frequency and amplitude both increase as the rate-of-flow increases.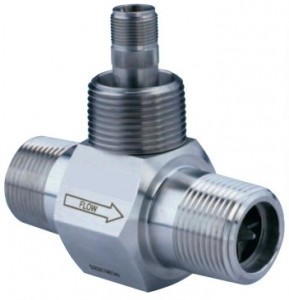 If data collection of totalization and rate-of-flow using an EtherMeter (or another pulse-counting instrument) is desired in such a situation, then the sine-wave signal must be post-processed in order to achieve compatibility with the control/telemetry instrumentation.  Fortunately, instrumentation is commercially available that converts the low-level sine wave into a compatible pulse.  One such example is the "Mag PreAmp" by Spectec (Emigrant, MT).  This instrument is capable of accepting a sine wave directly from the turbine meter, and converting it into an open-collector signal that is compatible with the EtherMeter. (See Figures 2 and 3.)
For a wide selection of magnetic-pickup-type flow meters, as well as Spectec instrumentation, please visit the Turbines Incorporated website or call 800.809.1387.
The specifications for the Spectec P/N 4022-05 may be downloaded/viewed HERE.
In Figure 4 below, a wiring diagram is shown for the integration of a Turbine-Type Flow Meter, Spectec PreAmp, and EtherMeter.
Important Note:  Please ensure that the selected turbine meter does not emit a pulse signal that exceeds 2400 pulses/second, which is the maximum supported by the EtherMeter.
Do you have an oil or natural gas flow metering application where you desire the EtherMeter's ability to gather both totalization and rate-of-flow information from sinusoidal-type meter signals — and then convert into Modbus and Rockwell automation protocols? If so, give us a call… We'll be glad to discuss your application in detail.