SCADAmetrics® is pleased to introduce the newest member of our DINstrumentation™ series – The Signalizer™!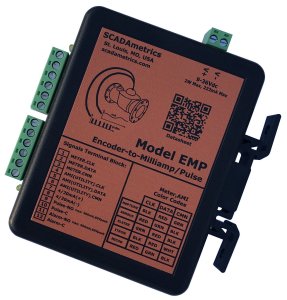 This new electronic telemetry signal generator for water meters provides a 4-20 milliamp (flow) output and a dry contact pulse (per volume) output! – while still maintaining the meter's ability to be co-connected to an AMI/AMR endpoint!
In the past, meter owners have traditionally been required to make a weighted buying decision: encoder-type meter?… or milliamp/pulse-type meter? The Signalizer allows you to easily have both with the same meter!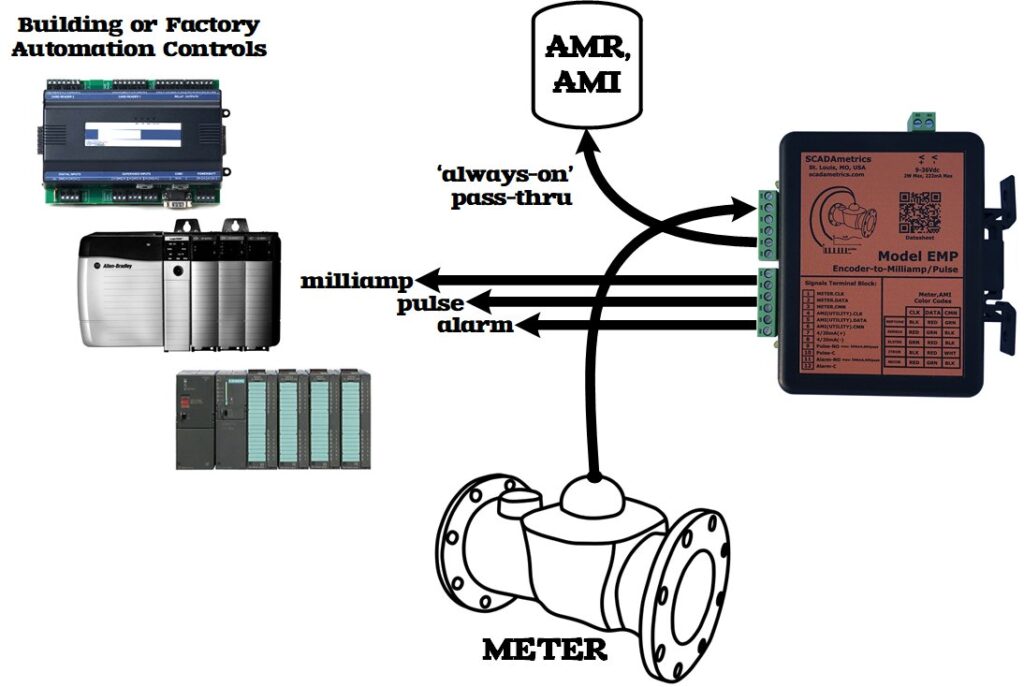 The Signalizer utilizes the popular encoder signal from the water meter to generate both a 4-20mA rate-of-flow signal and a dry-contact pulse-per-volume signal. …And because The Signalizer is outfitted with an integral pass-thru port, it can co-exist with an AMI/AMR system. The pass-thru port is always functional – even if power is removed – ensuring continuous connectivity to the AMR/AMI system!
The Signalizer is compatible with every late-model, encoder-type water meter in North America – including those from Neptune, Sensus, Metron-Farnier, Mueller, Kamstrup1, Badger, Master Meter, RG3, Zenner, Elster-AMCO, McCrometer, and many others!
Feature Highlights –
• 4-20mA Flow-Proportional Output (3KV Isolation).
• Dry-Contact, Volume-Proportional Output (3.75KV Isolation).
• Dry-Contact Alarm Output (3.75KV Isolation).
• Built-In Pass-Thru Port for Co-Connection to AMI/AMR – Works Even If Power Off!
• Compatible with All Late-Model, North American Encoder-Type Water Meters.
(Neptune 6,8,9-digit, Sensus 4,5,6,7,8,9-digit, Elster K-Frame Protocols).
• Works with All Popular Registration Units (Gallons, Cubic Feet, Cubic Meters, Acre Feet).
• No Computer Required! – Setup via DIP Switches Only!
• Removable Terminal Blocks, Simplified Wiring Procedures.
• Mounts on standard 35mm industrial DIN-rail.
• 24VDC-Powered (1.5KV Isolation). Low 1.2W Power Consumption.
• Enclosure and Circuit Board: UL 94-VO recognized materials.
Download Neptune-Centric PDF Datasheet / User Manual Here: TheSignalizer™
Download Multi-Brand PDF Datasheet / User Manual Here: TheSignalizer™
Are you interested in learning how TheSignalizer can help you more closely monitor the flow through your water meters? Give us a call! We'll be glad to discuss the details!
1The Kamstrup FlowIQ water meter's encoder update period is 32 seconds, and therefore requires special Signalizer firmware. For use with Kamstrup meters, please specify as such when ordering.