Also, if the water meter, instrumentation, and/or cabling is installed in the vicinity of electrically noisy equipment, such as motors, welders, or variable-frequency drives, the use of shielded cables is especially recommended!
Also, if there is an extended distance between the water meter and the SCADA/Telemetry/BMS instrumentation (10+ feet), shielded cable is recommended for these applications, as well!
Whether connecting an encoder-type water meter to an EtherMeter, a Signalizer, TheMeterDisplay, or an AMI/AMR Endpoint — if the cable length is expected to exceed 10 feet — then SCADAmetrics highly recommends the use of shielded instrumentation cable.
General Cable C2526A or Belden 8771 are excellent cables for this purpose.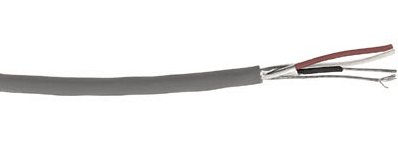 Both utilize 22 gauge conductors plus an overall foil shield; and both feature three (3) color-coded stranded conductors (red, black, white), plus a drain wire.
In order to achieve maximum benefits when utilizing shielded cable, it is important to ground the drain wire at one point only — preferably within the control panel.
When these wiring principles are put into practice, we have observed customers achieve successful meter communications up to 300+ cable feet. Of course, each application is unique, and thus your experience may differ.