You have an AMI-capable water meter, and you are quite satisfied with its ability to transmit revenue-grade readings into your system – but in certain situations, wouldn't it be useful if two or more systems were able to collect the reading from the water meter?
The patent-pending Model UDA "Universal Duplexer for AMI Systems" was designed for that exact purpose!
---
The Universal Duplexer enables the splitting of AMI signals from every major AMI-capable water meter to every major AMI/AMR/Visual endpoint in the industry – including those from Sensus, Neptune, Metron-Farnier, Kemp-Meek, Aclara, Mueller, Kamstrup, Badger, Master Meter, RG3, Zenner, Itron, Elster-AMCO, McCrometer, and many others!
---
The Universal Duplexer maintains all the popular functionality contained within our retired Radio-Read Filter device which led to its widespread acceptance at major water utilities throughout the United States and Canada. However, the addition of active electronic circuitry powered by a 10-year*, user-replaceable lithium cell provides vastly expanded meter compatibility.
---
Sample Applications:
---
---
---
---
---
---
---
The Universal Duplexer is housed within a weather-resistant, polycarbonate NEMA-4X enclosure suitable for outdoor installations.
When the water meter is owned by the utility, it is important to note that permission is required before connecting the water meter signal wires to the Universal Duplexer. For more information about permitting, please contact your water utility's engineering department.
---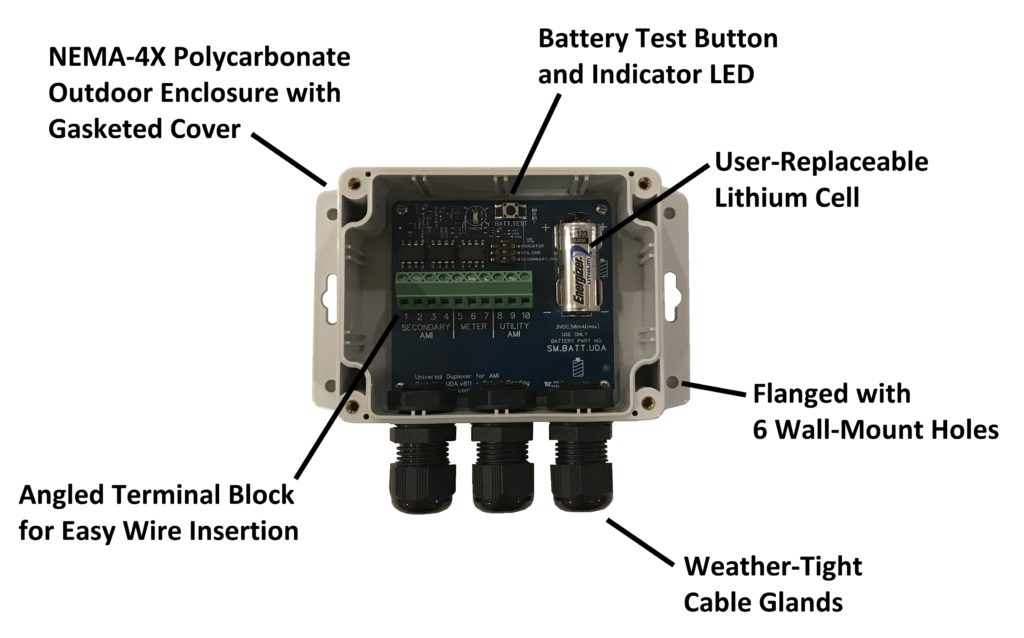 ---
Are you interested in how SCADAmetrics technology can help you split a water meter AMI signal to two or more meter-reading systems? Give us a call! We'll be glad to discuss the details!