SCADAmetrics® is pleased to introduce the newest member of our DINstrumentation™ series – The Analog Pulse Kit!
This new instrument is available in two different model variations: the Model APK, which mounts on standard industrial DIN-rail, and the Model APK.PLUS, which features an LCD display and is contained within its own NEMA-4X enclosure.
---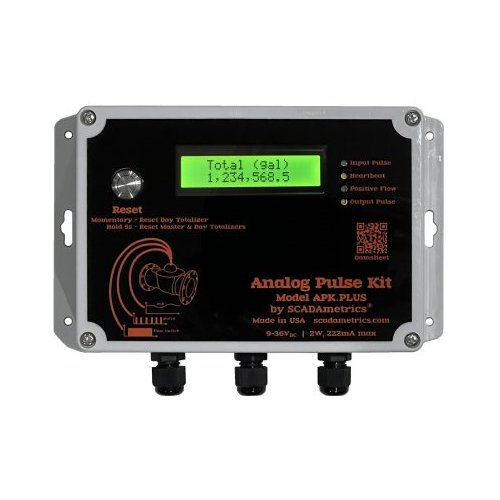 ---
The Analog Pulse Kit utilizes the unconditioned raw pulse output from the flow meter to provide a 4-20 milliamp (flow) output, a clean, dry-contact pulse (per volume) output, and a clean, dry-contact flow switch output! The flow switch output can be used, for example, to trigger ON/OFF a chemical disinfection pump.
Certain flow meters, such as the Sensus® OMNI™-Series, feature an unconditioned digital pulse output signal. The SCADAmetrics Analog Pulse Kit was designed to expand upon this pulse signal to provide an efficient flow meter interface to SCADA, Telemetry, and Building Automation Systems.
Furthermore, the Analog Pulse Kit was designed using SCADAmetrics' signature approach of providing users with the capability to easily set the instrument's meter-specific behavior while in-the-field, as opposed to only at the factory. All meter-specific customization is accomplished using 16 integrated DIP-switches, which are set according to our lookup table. The obvious benefits to our approach are accelerated project schedules and shortened lead-times.
---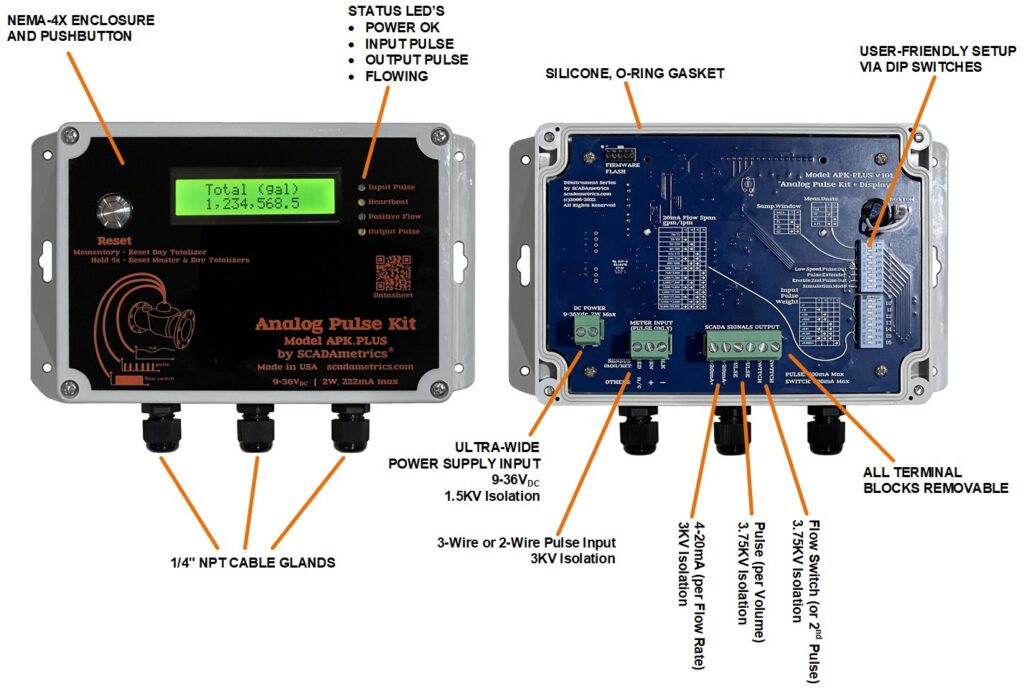 ---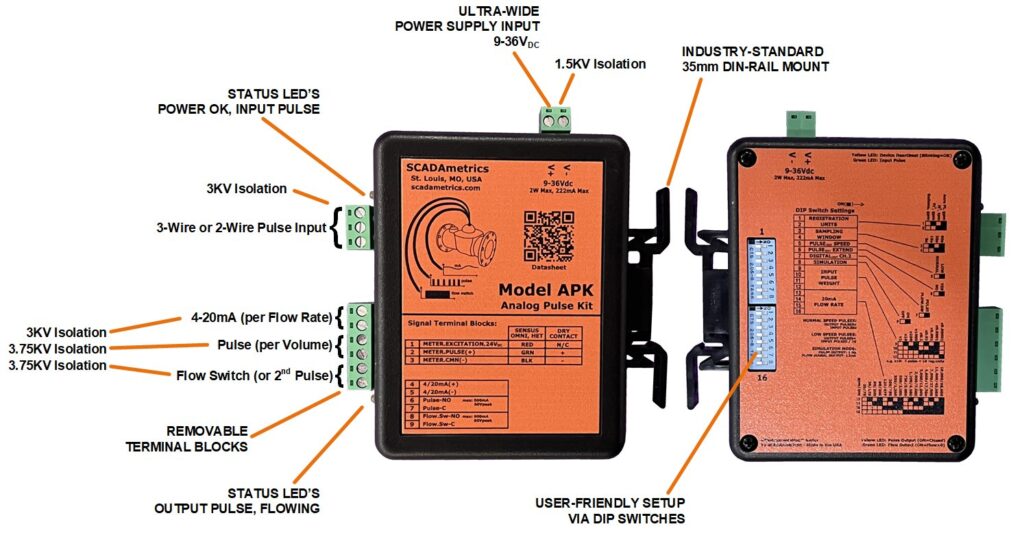 ---
For Sensus® OMNI™ and HET Propeller Meters, the Analog Pulse Kit provides the necessary 24VDC auxiliary power supply for these unique, 3-wire pulse-type meters.
For flow meters whose pulse output signal is too short-duration (milliseconds) or too high-frequency (Hz) to be detected by certain low-pulse-bandwidth BMS systems, the Analog Pulse Kit provides a Pulse Extension feature, which lengthens short-duration pulses to 100 milliseconds; and the Analog Pulse Kit also provides a Low-Speed Pulse Output feature, which decreases the pulse output frequency (Hz) by a factor of 10.
---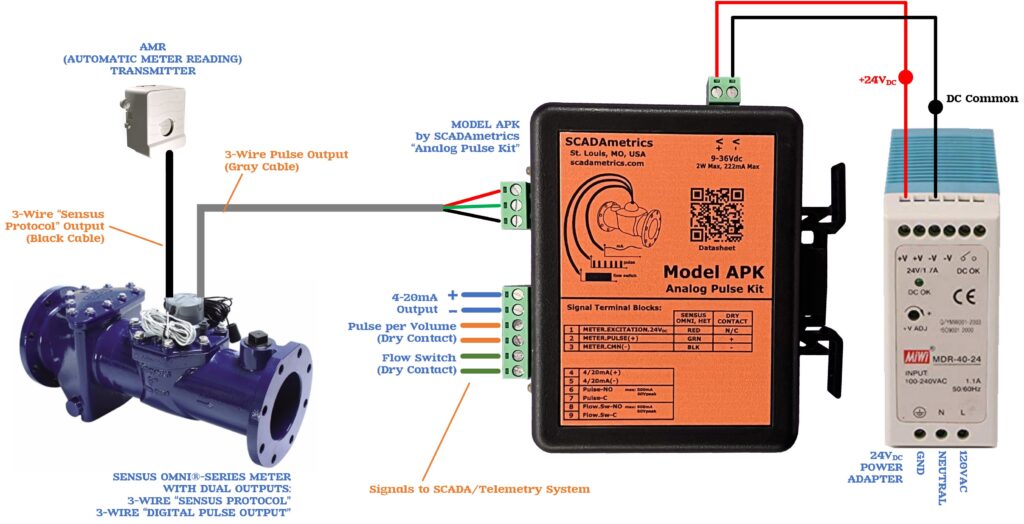 ---
Key Features –
• 4-20mA Flow-Proportional Output (3KV Isolation).
• Dry-Contact, Volume-Proportional Output (3.75KV Isolation).
• Dry-Contact Flow-Switch Output (3.75KV Isolation).
• Compatible with Most Late-Model, Pulse-Type Flow Meters.
• Works with All Popular Registration Units (Gallons, Cubic Feet, Cubic Meters, Acre Feet).
• No Computer Required! – Setup via DIP Switches Only!
• Removable Terminal Blocks, Simplified Wiring Procedures.
• NEMA-4X Wall Mount, or Standard 35mm industrial DIN-rail-mount.
• 24VDC-Powered (1.5KV Isolation). Low 1.2W Power Consumption.
• Enclosure and Circuit Board: UL 94-VO recognized materials.
• Simulation-Mode Feature: Emits 12mA and 1 Hz Pulse.
---
Download PDF Datasheet / User Manual Here: Model APK.PLUS 'Analog Pulse Kit'
Download PDF Datasheet / User Manual Here: Model APK 'Analog Pulse Kit'
---
Are you interested in learning how The Model APK or APK.PLUS Analog Pulse Kit can help you more closely monitor the flow through your water meters? Give us a call! We'll be glad to discuss the details!