A customer recently expressed a desire to utilize a Model WW-900 device and consequently monitor its performance within the context of both his AMI/AMR system and his SCADA system.
The WW-900 is a unique, all-in-one device manufactured by Victaulic Bermad Technologies (Houston TX); and it features both a flow meter and a control valve in one flanged package — an especially useful attribute when challenged by tight space constraints.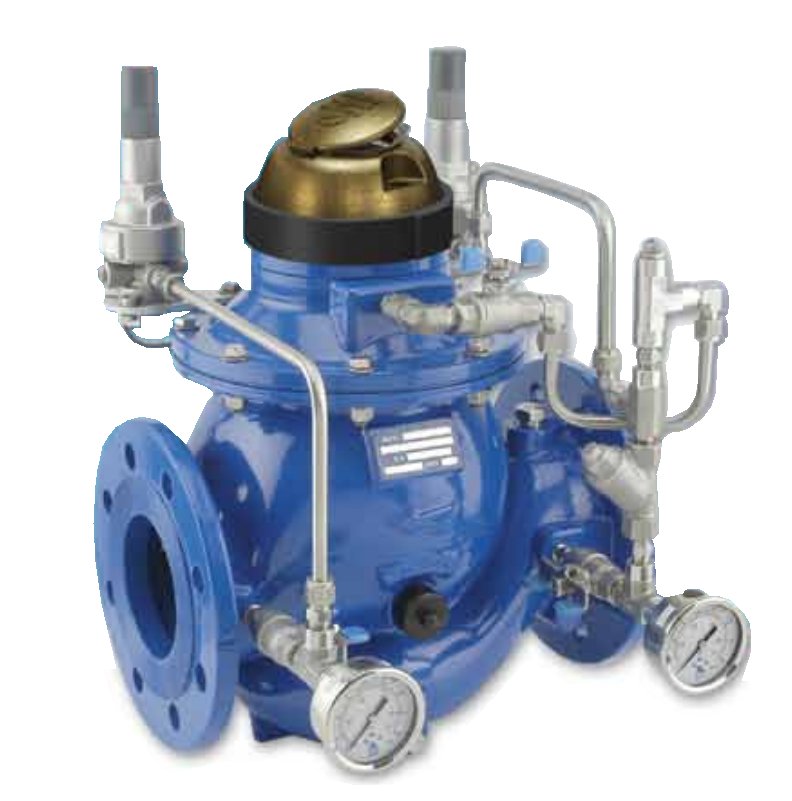 The flow meter component of the WW-900 offers a pulse-per-volume signal; and its control valve component offers upstream and downstream tapped ports suitable for connecting pressure gauges, transducers, or both.
SCADAmetrics flow metering instrumentation in general — and the Model EM-100® EtherMeter specifically — offer the perfect combination of features to assist the customer in "gluing" all the pieces together and achieving his goals.
Primarily, the EM-100's is known for its meter input channel functionality; but it also contains auxiliary IO that is especially useful in standalone metering and valve situations:
2 Meter Input Channels
2 Analog Input Channels (4-20mA)
3 Digital Input/Output Channels (Dry Contact Inputs, TTL Outputs)
One meter input channel can be utilized to transmit to SCADA the pulse-per-volume signal from the WW-900's water meter, providing Operations Personnel with both totalization (gallons) and instantaneous rate-of-flow (gpm) data. Furthermore, the EtherMeter's two (2) analog input channels can be utilized to transmit to SCADA both the upstream and downstream pressures across the control valve, thereby providing a view as to the proper performance of the valve. Finally, the three (3) digital IO's can be utilized to transmit to SCADA additional points-of-interest, such as power fault, entry detect, flood detect, etc..
The EtherMeter's industrial Ethernet capabilities are compatible with the vast majority of SCADA systems in the industry, as it offers the following standard protocols: Modbus/TCP, Modbus/UDP, and Allen-Bradley EtherNet/IP.
Toward the business side of the water utility, the EtherMeter is capable of serving up the meter totalization an AMI/AMR system, via a connected Model MBE Encodalizer™, which provides a user-configurable, Sensus- or Neptune-protocol encoder signal.
A graphical illustration of the components follows: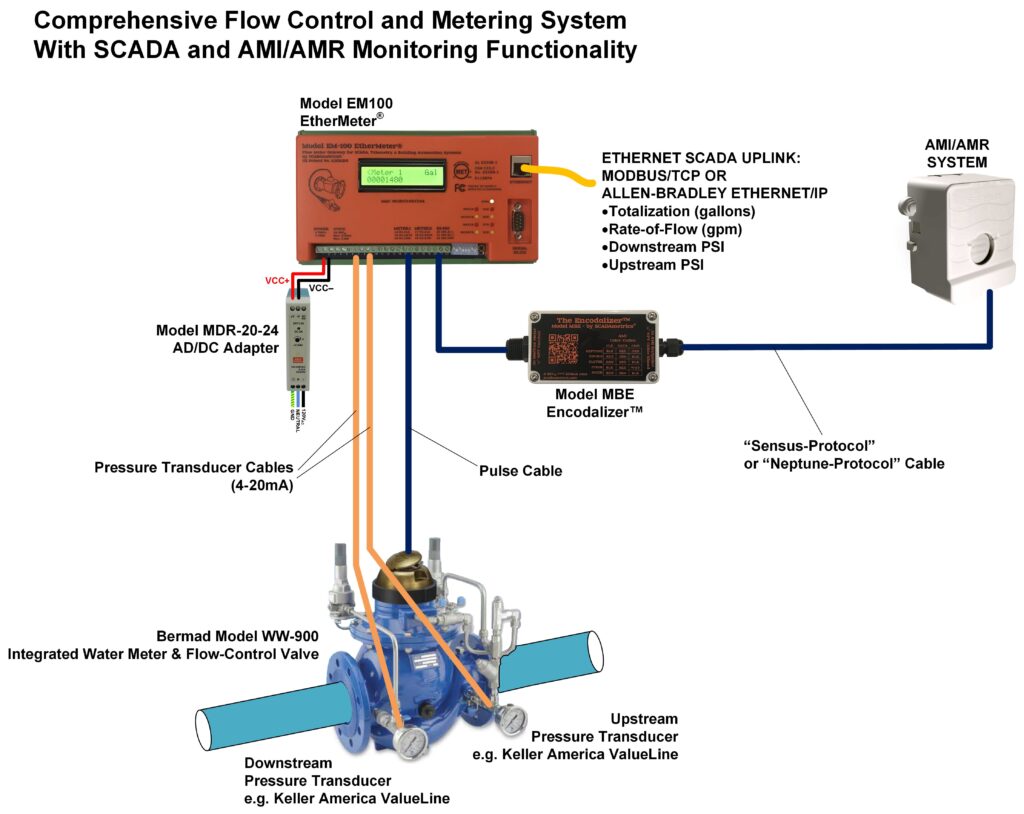 Are you interested in how SCADAmetrics EtherMeter and Encodalizer technology can help your utility connect WW-900 Valve/Meters into your SCADA and AMI systems? — and fully leverage your SCADA and AMI investment? Give us a call! We'll be glad to discuss the details!