For example, the Siemens FM Mag 6000 Magnetic Flow Meter is outfitted with a 4-20mA Rate Output (default), a Pulse Output (default) and Modbus/RTU Signaling (optional) – but *not* Sensus Protocol . The Encodalizer taps into this meter's Modbus/RTU signal to create a Sensus Protocol Output, thereby enabling this meter to be connected to a water utility's AMR/AMI system!
SCADAmetrics® is pleased to introduce TheEncodalizer™! – The new AMR/AMI signal generator for water meters that provides a Sensus-Protocol output to certain flow meters that otherwise do not offer that option!
Because Modbus technology provides the Encodalizer with a direct digital connection to the flow meter's internal memory registers, the Encodalizer is thereby able to provide the connected AMR/AMI system with a Sensus-Protocol totalizer reading that is a perfect match to the reading displayed on the physical meter itself! – We call this Revenue Grade Accuracy!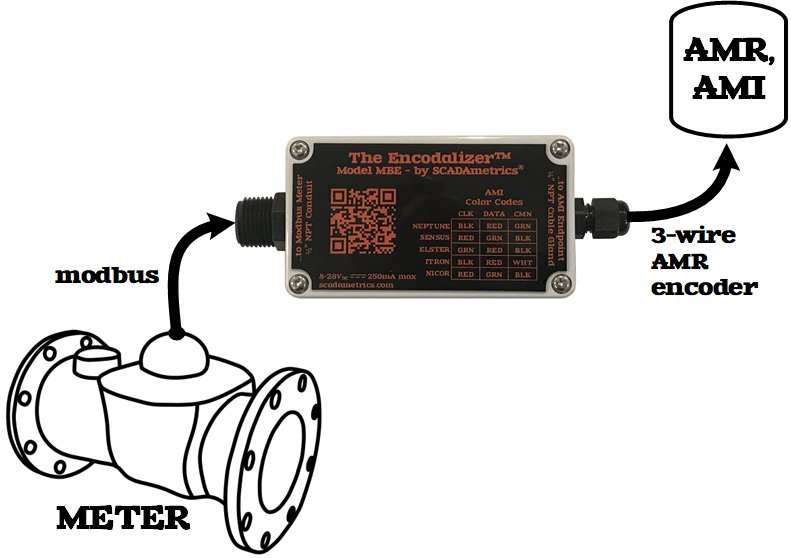 The Encodalizer was envisioned to serve as a "to-Sensus Protocol Translator", which would support a multitude of Modbus-enabled flow meters. Presently, it supports the following Modbus-enabled meters:
Siemens FM Mag Series with Mag 6000 Transmitter
Flowtronic Torpee Magnetic Insertion Meter with TMC-20 Transmitter
SCADAmetrics EM-100 EtherMeter
The following is a list of meters for which we plan to add support in the near future:
Endress-Hauser ProMag
ABB AquaMaster, WaterMaster
Rosemount 8750
Seametrics Ag3000
Krohne WaterFlux
Toshiba MountAnywhere
Foxboro 9500A Tube with IMT3xA Transmitter
Sparling TigerMag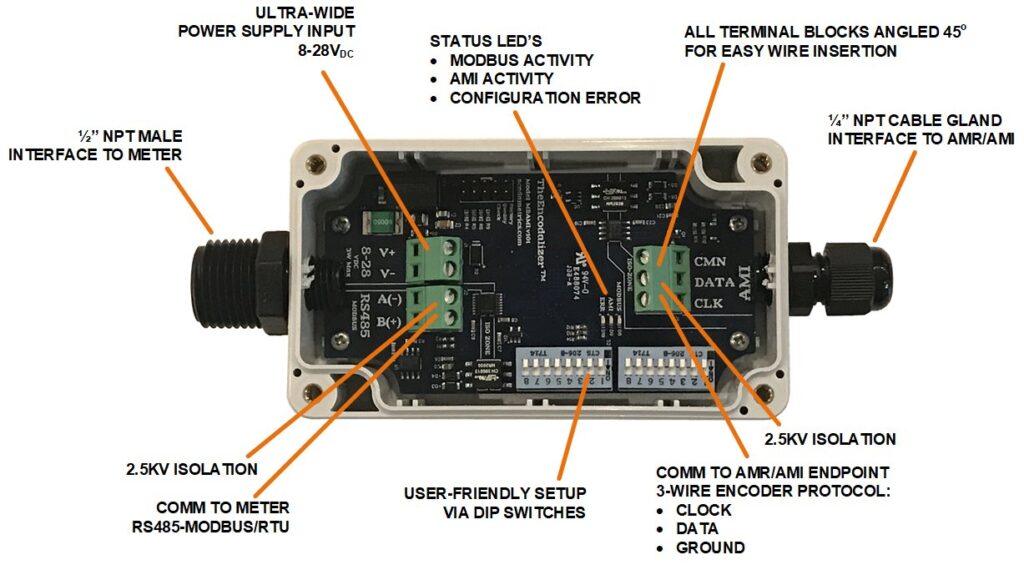 Feature Highlights –
• RS-485 Modbus/RTU Port with 2.5KV Isolation
• 3-Wire Encoder Port with 2.5KV Isolation
• User-Settings via Dip Switches – No Computer Programming Required!
• User-Selectable Encoder Protocol: Sensus or Neptune (future)
• User-Selectable Number of AMR Digits
• User-Selectable AMR Registration Units
• User-Selectable AMR Resolution
• Power: Accepts Wide Voltage Range: 8-28VDC
• Angled Terminal Blocks for Easy Wiring
• ½" NPT Male Threaded Fitting Adapts to Most MagMeter Transmitters
• Enclosure and Circuit Board: UL 94-VO recognized materials

Download PDF Datasheet / User Manual Here: TheEncodalizer™
Are you interested in how SCADAmetrics Encodalizer technology can help connect specialty process flow meters to your AMR/AMI system? Give us a call! We'll be glad to discuss the details!