In response to customer requests for a sealed, meter vault-compatible version of TheSignalizer™, SCADAmetrics® is pleased to introduce a harsh-environment enclosure option!
In most instances, TheSignalizer can be installed within a protected, above-ground control panel. However, there are certain instances where installation within a vault environment is unavoidable. To address this need, we have developed and introduced a superb-quality, NEMA-6P/IP68 enclosure solution!
Throughout your years in the water & wastewater industries, perhaps you have seen enclosures that feature a NEMA-4X (water-tight + corrosion resistant) rating? While those are very popular and effective, that high level of protection may still be insufficient for many wet vault applications.
For this reason, we decided that our optional vault protection kit should have a NEMA-6P / IP68 protective rating!
NEMA-6P (Temporarily Prolonged Submersible, Occasionally) defines an even more stringent standard that permits the staging of electronic instrumentation within extremely harsh environments – such as within water meter vaults. However, it is important to note that NEMA-6P does not provide rated protection against permanent submersion. Furthermore, the fidelity of this high-performance rating depends upon adherence to stringent installation standards. Please refer to the enclosure instruction manual for details.
This enclosure includes sturdy, wall-mounting flanges, a clear window cover, and a custom-manufactured, UL-94VO fiberglass back panel with pre-machined mounting holes and din-rail. This enclosure also boasts an industrial safety listing UL508A (USA) and CSA C22.2 NO. 14-13 (Canada).
Our new enclosure also has sufficient room to accommodate an EtherMeter+Power Adapter or an EtherMeter+Duplexer – so it may be useful for other applications, as well!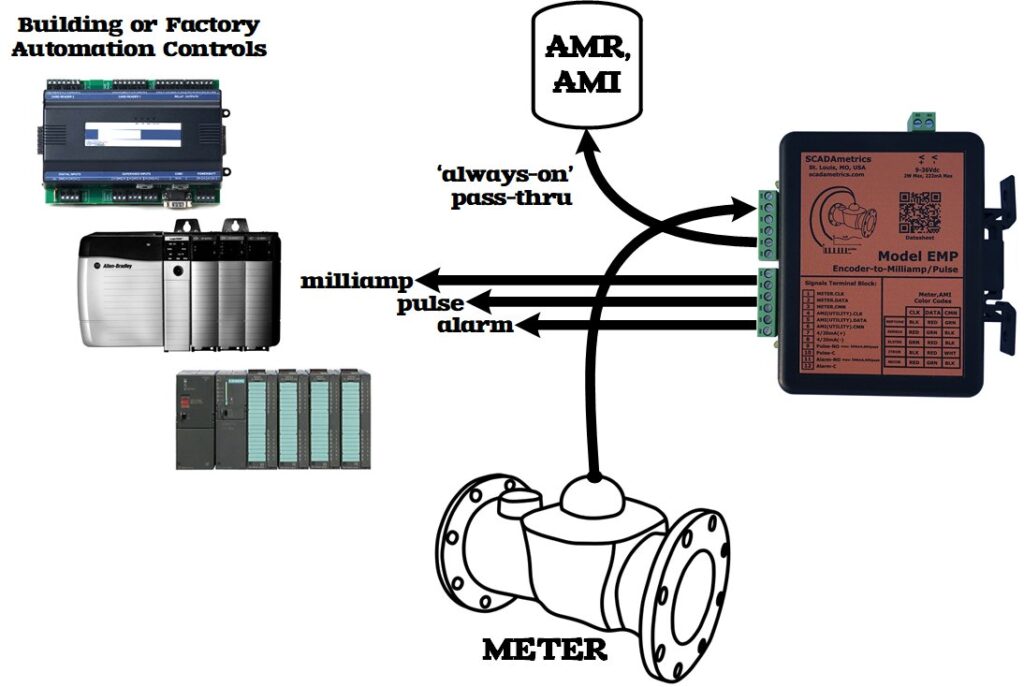 Enclosure Highlights –
• Dimensions: 11.04 x 9.04 x 7.72 in
• Weight: 3.80 lbs
• UL 508A Listed (File E352997)
• NEMA Rated: 1, 2, 3, 3R, 3X, 3RX, 3S, 3SX, 4, 4X, 5, 6, 6P, 12 & 13
• IP Rated: IP65, IP66, IP67, IP68
• Base Material: Impact-Resistant Polycarbonate
• Outdoor Capable: Yes, Waterproof, Weatherproof, Corrosion-Resistant
• Hardware: Stainless Steel Screws
• Seal: Continuous gasket paired with a thick and tall rib
• Mounting: Includes Custom Fiberglass Back Panel and Din-Rail
• Structural: Webbing design on flanges and feet for added durability
• Installation: Includes Vertical/Horizontal Flange Mounting Kit
• Made in the USA
Download PDF Datasheet / User Manual Here: NEMA-6P/IP-68 Enclosure
Download PDF Datasheet / User Manual Here: TheSignalizer™
Are you interested in learning how TheSignalizer – installed in dry control panel and now even in a wet meter vault – can help you more closely monitor the flow through your water meters? Give us a call! We'll be glad to discuss the details!