TheMeterDisplay™, Model TMD, integrates state-of-the-art power-minimization technologies into its design, to the benefit and convenience of the user.
During beta-testing in the Winter of 2020, the successful application of these technologies was rigorously evaluated; and the battery longevity results are conveyed within this article.
The test Display was powered by a new Panasonic Lithium CR-123A cell. Panasonic's CR-123A is manufactured in Columbus, GA ― and boasts the highest available CR-123A energy capacity: 1550 mAh.
In order to compress the testing within a reasonable time period, an apparatus was built to automatically generate a meter-read request every 30 seconds.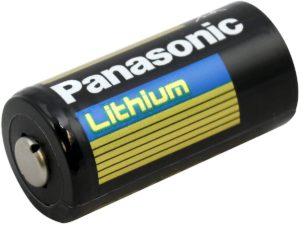 The water meter in the test was a Neptune Model T-10, 5/8″, outfitted with a Neptune Pro-Coder register. The backlight was set to 'ON', the Meter-ID Display was set to 'OFF', Measurement Units were set to 'Gallons', and Rate-of-Flow Display was set to 'OFF'.
An IP camera, connected to an NVR (Network Video Recorder), was set to visually record TheMeterDisplay during the test, and to ascertain the exact time of battery depletion.
Begin Date/Time: 17 Feb 2020, 4:45PM
End Date/Time: 22 Feb 2020, 2:45AM
Total Duration: ~106 Hrs.
Number of Meter Reads: ~12,720
As a result of this test, and after accounting for battery self-discharge, the approximate life expectancy of TheMeterDisplay's lithium cell was determined to be 10,000 meter reads or 10 years ― whichever occurs first.
And unlike with the industry's other remote wall displays, the battery in TheMeterDisplay is user-replaceable after depletion!
Basic Meter Reads were performed during this battery longevity test (Total=ON, Backlight=ON, Meter ID=OFF, Flow Rate=OFF). If Flow Rate or Meter ID displays are enabled, then the estimated battery life expectancy will drop to approximately 4000 meter reads.