SCADAmetrics® is pleased to introduce the industry's most revolutionary remote display for water meters – ever!
Not just 'a' meter display – TheMeterDisplay™!
Our economical, USA-Made remote display offers every feature one could ever wish for! – including the ability to work in conjunction with a co-connected AMI/AMR endpoint!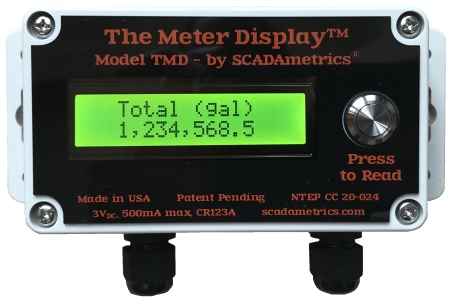 In the past, water meter owners have been precluded from installing a remote wall display whenever the meter's signal cable was already connected to an AMI/AMR endpoint. However, because TheMeterDisplay is equipped with an integral pass-thru port, it can co-exist with an AMI/AMR system. And the pass-thru port is always functional, even if the battery is removed or depleted!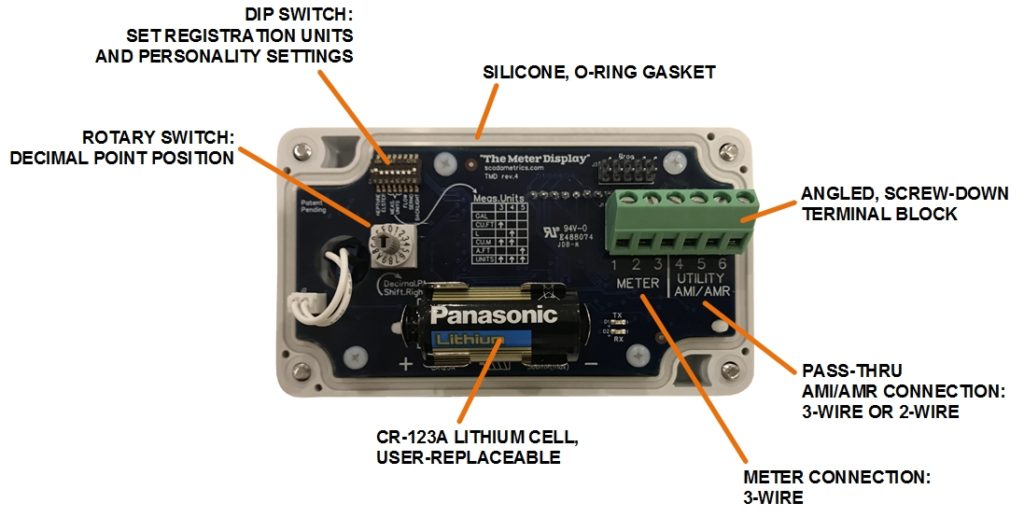 TheMeterDisplay is compatible with every late-model, encoder-type water meter in North America – including those from Sensus, Neptune, Metron-Farnier, Mueller, Kamstrup, Badger, Master Meter, RG3, Zenner, Elster-AMCO, McCrometer, and many others!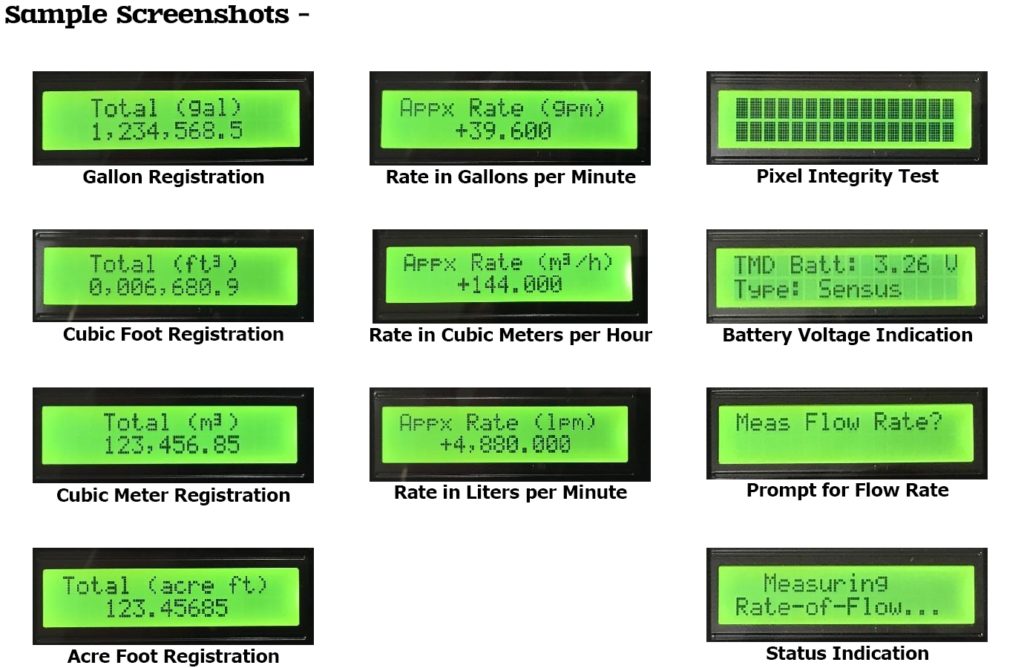 Feature Highlights –
• Simple and Easy-to-Use: Just Press the Button!
• For Outdoor or Indoor Use
• Large, 2×16 Character Backlit Display
• Built-In Pass-Thru Port for Co-Connection to an AMI/AMR System (Works Even After Battery Depletion!)
• Low Power Consumption / 10+ Year Battery Life*
• User-Replaceable, Non-Proprietary Lithium Cell
• Displays Registration Units (Gallons, Cubic Feet, Cubic Meters, Liters, Acre Feet, Generic Units)
• Displays Correct Decimal Point Placement
• Reading Features a Comma Separator After Every 3rd Digit
• Compatible with All Late-Model Encoder-Type Water Meters in the USA and Canada (Sensus 4-9 Digit, Neptune 6,8,9-Digit, Elster K-Frame Protocols).
• Displays Approximate Rate-of-Flow. Requires Meter with 7/8/9-Digit Registration. 8/9-Digit Preferred.
• Displays Water Meter Serial Number
• Built to NEMA-4X, IP65 Specifications, Not Submersible
• Rugged Polycarbonate Enclosure with Wall-Mount Flanges
• Easy Wiring, with Angled, Screw-Down Terminal Block
• Battery Voltage Display
• No Programming Required
• NTEP-Certified
Download PDF Datasheet / User Manual Here: TheMeterDisplay™
Are you interested in learning how TheMeterDisplay can help add a remote visual reading dimension to your AMI/AMR-connected water meters? Give us a call!… We'll be glad to discuss the details!