Home of The EtherMeter® —

The Revenue-Grade Flow Meter Gateway For SCADA, Telemetry, & Building Automation Systems.
Welcome to the web portal of SCADAmetrics — the home of the EtherMeter®.
This is the place "Where Flow Meters Meet MODBUS, DF1, and EtherNet/IP".
The EtherMeter®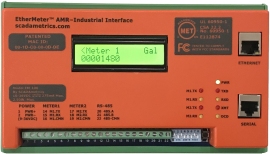 If your SCADA, telemetry, or building automation system is tasked with collecting totalization and rate data from flow meters, then the EtherMeter is built to simplify your system while providing superior results. And when the EtherMeter is connected to compatible encoder-type flow meters, its transmitted consumption data is always an exact match to the readings on the physical meters. In other words, it provides revenue-grade accuracy.
With support for Modbus and Allen Bradley communications, the EtherMeter is compatible with the vast majority of automation systems.
With support for Sensus-protocol, Neptune-protocol, Elster-protocol, and pulse-type meters, it is compatible with most cold water, hot water, steam, natural gas, petroleum, & chemical meters.
Supported meters include those by ABB, Actaris, Badger, Elster-AMCO, Hersey, Invensys, Itron, Kent, Master Meter, Metron-Farnier, Neptune, Rockwell, Schlumberger, Sensus, Siemens, and many others.
In a nutshell, the EtherMeter provides technicians with the most accurate and straightforward instrument for connecting flow meters to today's modern automation systems.
Here on our website, we welcome you to study our products, download brochures & specifications, access the online manuals, and make purchases at our eStore. And we are always glad to answer any questions, so please don't ever hesitate to call or email (See Contact page). To keep up with our latest efforts, please be sure to sign up for our EtherMeter Technology Newsletter... and please be sure to check in regularly with our Educational EtherMeter Technology Blog.
| | |
| --- | --- |
| PLC-Connected | RTU-Connected |
| Radio-Connected | Cellular-Connected |
| BAS-Connected | Satellite-Connected |
News & Blog...


SCADAmetrics Introduces New Bell-202 Modem for Radio Telemetry / SCADA Systems with 2.5KV Serial Port Isolation!...More...
EtherMeter Compatible with McCrometer's AMR-Capable Flow Meters!...More...
SCADAmetrics Bell 202 Modem Compatible with Ritron DTX+ Series Telemetry Radio!...More...
SCADAmetrics Bell 202 Modem Helps Establish Radio Telemetry Communications between Allen Bradley PLC's!...More...
Re-Introducing the Radio-Read Filter, Which Enables The Water Buyer and Seller to Share Meter Readings!...More...
What is Revenue-Grade-Accurate Flow Metering?...More...
Reading Totalization and Rate-of-Flow from a Magnetic Pickup Turbine Meter...More...
Introducing Free, Open-Source AMR Data Collection Software!...More...
Leveraging the EtherMeter for Industrial & Commercial Natural Gas Sub-Metering...More...
Combining EtherMeter and VFD Technologies to Reduce Pump Station Energy Costs...More...
PowerPoint Slides from the SCADAmetrics Master Metering Briefing at AWWA T-CON 2014.More...
EtherMeter Compatible With Badger Meter's New High Resolution Encoder-Type Registers. More...
Interested in Accumulating Flow Totals from a 4-20mA Flow Meter? The EtherMeter Can Help. More...
EtherMeter Compatible With New FlowCom Meter Register by McCrometer. More...
New EtherMeter Model Unveiled - Transmits Flow Metering Data Over Iridium Satellite Network. More...
SCADAmetrics Launches Mobile Version eStore. More...
EtherMeter Compatible With Magnetic Flow Meter by Neptune Technology Group. More...
SCADAmetrics Awarded US Patent Number 8,219,214. More...
MODBUS/RTU over UDP Option Introduced. More...
Outdoor-Rated, Wall-Mountable Radio-Read Filter Introduced. More...
EtherMeter Compatible With Magnetic Flow Meter by Siemens Industry. More...
EtherMeter Compatible With Water Meters by Master Meter, Inc. (Mansfield, TX). More...
New Volume Sales Discount Schedule Announced. More...
Touch-Read Filter Unveiled. Allows A Water Meter To Be Connected To A Touch-Read Pad And An AMR Radio Endpoint Concurrently. More...
Pulse-Based Meter Support Added To EtherMeter. Boosts Compatibility With Industrial Gas, Petroleum, & Chemical Meters. More...
K-Frame Protocol Support Added To EtherMeter Boosts Elster-AMCO, ABB, Kent Meter Compatibility. More...
Radio-Read Filter Unveiled — Enables Two Independent SCADA Systems To Share Access To A Single Master Meter. More...
Hot Water Sub-Metering And Process Monitoring Now Possible With The EtherMeter™. More...
EtherMeter™ Compatibility Broadened. Connectivity To Five Allen Bradley (Rockwell Automation) Product Families Announced. More...
EtherMeter™ Granted Safety Recognition By MET Laboratories. More...
EtherMeter™ Compatible With Metron-Farnier Water Meter Registers. More...
EtherMeter™ Proves Compatibility With Industry-Standard SCADA Software. More...
EtherMeter™ Provides Error-Free Totalization And Flow Information To Water Treatment Plant SCADA System. More...
Hersey Meter's Translator Encoder Register Added To EtherMeter™ Compatibility Matrix.More...
Read about these and other recent developments and upcoming conference presentations. More...